The Morris Difference
When It Comes To Your Success, We're All In
At Morris Business Solutions, going above and beyond is not the exception here — it's the rule. By hiring motivated people, providing incentives to go the extra mile, and encouraging our employees to show the utmost respect to everyone they come in contact with, we've created an environment of enviable success and exceptional service.
A Team Comprised Of Your Neighbors
Resources That Span The Nation
As a Xerox Sales Agent, we're able to provide you with the flexibility and responsiveness you'd expect from a local business entrepreneur, combined with the power and resources of the Xerox Corporation.
Ultimately this means that you get the best of both worlds — a local relationship you can trust and a high quality product you can rely on.

Not Your Average Printer Company
You get a lot more than a machine when you work with Morris Business Solutions. You get:
A partnership with a team of individuals who are genuinely invested in the success and growth of your business.
Top-notch service, demonstrated by our average 2 hour response time and exceptional team members.
Unbeatable prices.
Fewer service issues.
Proactive response to your needs, solving issues before you know there's a problem.
Automatic billing.
Remote maintenance.
Part Of Your Community
Despite our extensive resources, Morris Business Solutions is a Carolina company. We're made up of your family members, friends, neighbors — the people that make our community so great. Whether it's creating jobs or participating in community events, we're committed to the success of the Carolinas.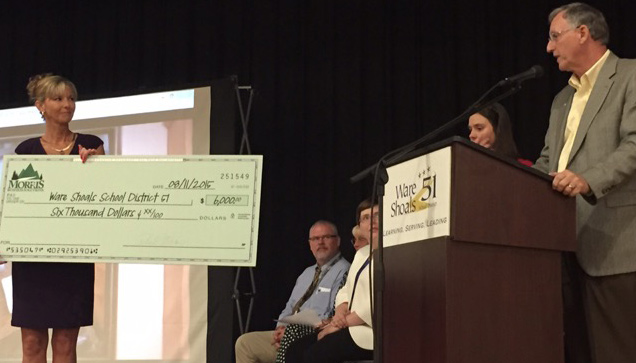 See What Our Clients Have To Say
I can't begin to tell you all that they tried to fix the problem, but I can tell you that they did not quit until they corrected the problem. Very courteous, kind and patient with my lack of knowledge of technical difficulties. I guarantee you I would not be finally getting to get some work done with out them. You've got a great "village" there! Thank you to them all!

Stokesdale Christian Church
Your sales representatives came into our office and took the time to thoroughly go over all of our options (color vs black/white, difference in costs, difference purchase vs lease). They genuinely seemed like they were there to help our office make an informed decision, not to just push a purchase on us. Once we had made our decision, the workstation was delivered and fully set up within the week. I would encourage anyone looking to make a Xerox purchase to give MBS a call. You will not regret it.

Sissy Wallace

Hyler & Lopez, PA
This is actually from the beginning working with Joni. She has always been the first contact for most of our issues at our bank and she communicates and takes care of us very well. At one point we had no toner for a branch, I contacted her and she immediately takes care of the situation by either sending it quickly or finds a tech that is already coming this way to deliver it. The BIGGEST asset is that she is the first line of contact and I feel comfortable and at ease when I have reached her and heard back from her. She has great customer service and helps out without hesitation. Thank you, Joni, for making Morris Business Solutions the place GrandSouth Bank for our business printing/copying needs!

Grand South Bank
George tried different programs to help me resolve my printing issues. He was very patient in explaining everything to me about the problem I was having. He even showed me two different resolutions to the printing issue I was having and both of which was successful. George is Awesome!!!!

Tiger Properties
We have been doing business with Morris Business Solutions for over 10 years. During this time the service level has always been first-rate. In the busy work environment, it is essential to have adequate equipment to perform the job tasks that we need to facilitate operations. We have been pleased that the Xerox machines have always been top-quality.

Andrew Robinson

Capsugel
A big thank you to Annetta who was helping another department with their copier when I asked her to come check mine. She happily stopped and came over to get mine fixed! She does this all professionally and with a smile. We so appreciate her willingness to help and not be "bothered" when interrupted.

Oconee Memorial Hospital
Prompt courteous service, extremely nice. Not only fixed our problem, but took time to give useful information and fixed several problems that he noticed while working on the system.

Macedonia Fire Department